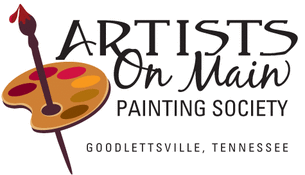 ---
We are a collaborative group of artists that create, paint, encourage and learn together


There are some good…no…..great things happening in Goodlettsville at the end of July. The
Artists on Main
art studio, currently housed on Main Street on the outskirts of the Antique District, is moving to the historic Bank of Goodlettsville Building, the charming little stone building on Main Street located directly in front of Cole and Garrett Funeral Home.
This historic building was built in 1900 and housed the Bank of Goodlettsville for over fifty years. It retains the wonderful, original features of the bank, including the original vault, complete with a bullet scar from a 1903 robbery, to the original safe deposit boxes. It also has a lovely reclaimed antique wood floor from the ballroom of Nashville's Noel Hotel. The stones surrounding the adjacent courtyard came from the Sealtest Ice Cream building, located at 12th and Broad in Nashville, and features an iron fence that once surrounded an historic cemetery here in Goodlettsville.
​
David Gillihan, owner and instructor at Artists on Main is ready to make the former Bank of Goodlettsville a place where our residents can meet, browse, shop and learn. The upstairs portion of the building will serve as the art studio where classes are held, and the downstairs that fronts Main Street will house the Art gallery, shopping opportunities and student art classes.
The
Artists on Main
encourage you to "Watch for our open house offerings, gallery presentations and events in the courtyard! We are so proud to be a part of the Goodlettsville Arts and Shopping scene. We can't wait to welcome you to our new home on Main!"
Check out our video on the
News and Information
page for a sneak peek at our new home.