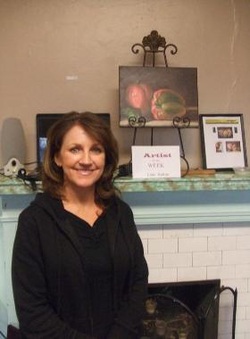 Lisa Balkon
My name is Lisa Balkon. I have been happily married for 22 years and have three beautiful children. I enjoy many creative
activities including knitting, pottery, travel, flyfishing and kayaking. I have secretly wanted to paint my whole life but never felt it was
something I could do. I thought that was for "natural" artists, people who could draw and were always doodling.

I found Artists On Main quite by accident. After seeing it, it took me a few days to call, and then a few more to stop in. After I did, I
knew it was the place for me. David is nurturing and inspiring to everyone. With his help and encouragement, I am fulfilling my
lifelong dream of painting! It is something I truly love to do and I enjoy the learning opportunity and fun that each painting brings!