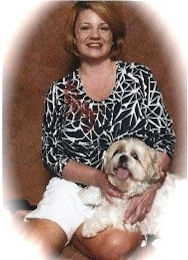 Lisa Exum
I live in Hendersonville, Tennessee. I'm a married mother with 3 sons, a daughter-in-law and 3 dogs (the "baby girls").

Some of my greatest joy comes from painting a variety of subjects, from my whimsical "girlfriends" to my beloved pets and their friends. My artwork puts a smile on my face; and my desire is that it likewise translates for those who view it.

My art has actually served as an antidote to the stress, fear and grief I've walked through over the past 5 years, having lost my dear Mother, nursed a son through chemotherapy and endured severe financial challenges. To escape those dark places, I found myself incessantly doodling on paper, surprisingly to the delight of my family and friends. Their responses prompted me to seek direction from some of my favorite local artists, who have graciously shared their unique talents and encouraged me to pursue my dream to lift others' spirits through my artwork.

My mission statement is derived from the positive reinforcement I received from my Mom who always loved my childhood drawings. Your expression through art transcends any so-called right or wrong way to do it . . . it is uniquely yours, so just . . . Go For It!